what is Feasycom iBeacon
iBeacon was introduced by Apple, it is an exciting technology enabling new location awareness
possibilities. Leveraging Bluetooth Low Energy (BLE), a device with iBeacon technology
can be used to establish a region around an object. This allows an smart device to determine
when it has entered or left the region, along with an estimation of proximity to a beacon. Feasycom provides the iBeacon technology and BLE+WiFi Gateway solution for tracking and location.
iBeacon for Farm tracking
In order to increase the efficiency of farm management, more and more farms adopt iBeacon technology to track animals and farm equipment, customers can track cattle via smartphone App and PC, very convenience for manage their farms.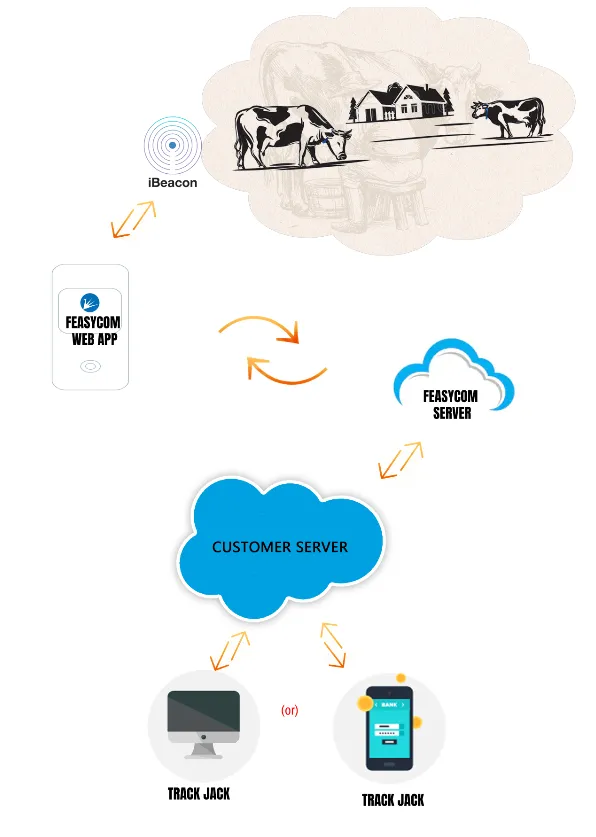 How does it work?
*Fix three Beacons and known position, every cattle carries one Beacon, customer can calculate the cattle's position via RSSI value, and the Beacon which is carried by cattle will upload the data to Gateway(BLE+Wifi), Gateway will upload data to server, customer can easy track cattle via App or PC App.
Which iBeacon and Gateway solution is suitable for you?
*FSC-BP106 is a IP67 BLE 5.0 waterproof Beacon, if you need iBeacons to tracking cattle, the Beacon must be waterproof and high quality, so far now FSC-BP106 has been widely used for farm animals tracking, the quality is guaranteed.
FSC-BP201 and FSC-BP209 is the Gateway solution for farm tracking, adopt MQTT protocol for Wifi, Gateways can receive data from Beacons and upload to server, FSC-BP209 is the long range Gateway under development, the BLE scan distance can up to 1000m in open space.