Recently, Feasycom officially passed the ISO14001 environmental management system certification and obtained the certificate, which indicates that Feasycom has achieved international connection in environmental protection management, and the soft power of comprehensive management has entered a new stage.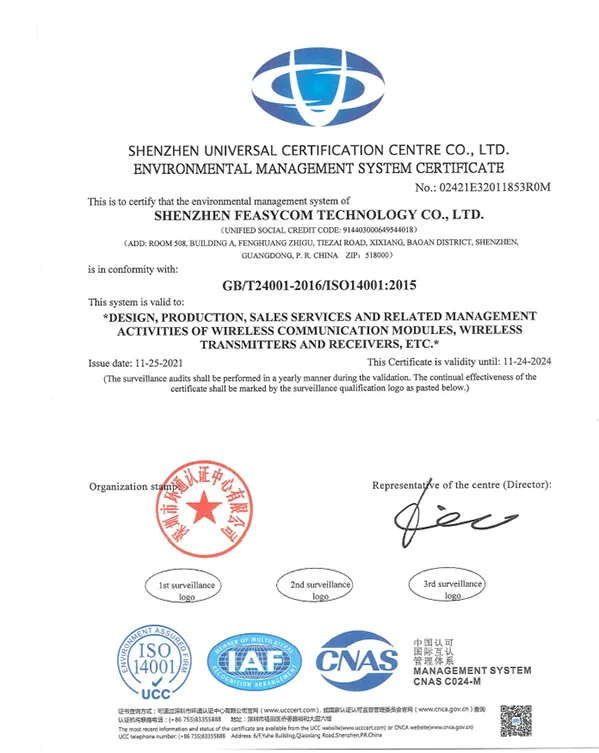 Environmental management system certification means that a third-party notary organization assesses the environmental management system of the supplier (producer) according to the publicly released environmental management system standards (ISO14000 environmental management series standards). The management system certification certificate, and the registration and publication, prove that the supplier has the environmental assurance ability to provide products or services in accordance with the established environmental protection standards and legal requirements. Through the environmental management system certification, it can be verified whether the raw materials, production technology, processing methods, use and post-use disposal of the products used by the manufacturer meet the requirements of environmental protection standards and regulations.
In order to standardize the environmental management work and further enhance the company's comprehensive competitiveness, Feasycom formally signed a contract with a third-party counseling agency and officially launched the third-party certification of the ISO14001 environmental management system. The company's leaders attached great importance to the system audit work. After adequate preparation and qualification of the audit, the two phases of the audit were successfully completed on November 25.
In the future environmental management work, Feasycom will continue to improve in accordance with the requirements of the ISO14001 standard to ensure the suitability, adequacy and effectiveness of the environmental management system, and provide a solid foundation for the company's high-quality development.